L220 Frequency / Volt Meter
Designed specifically for the motion picture industry and cinematographers, our L220 Frequency/Voltmeter employs a crystal accurate microprocessor for the measurement of line frequency and true RMS voltage, taken from the A.C. power line to which it is plugged into. It's capable of reading 50 or 60Hz and automatically senses input voltage thereby selecting the correct range: 75 - 140VAC or 200VAC - 264VAC, enabling it to be compatible with U.S., European and Asian power supplies.
Unlike other frequency meters, the L220 uses a "non-averaging" method to measure frequency. Instead of counting cycles over a reference time frame, then using that information to calculate the average frequency (a varying frequency will often average out to the correct frequency), the L220 randomly samples one cycle at a time and bases it's reading on that cycle measurement, thereby revealing any frequency variation. The L220 can be very useful in situations that require precision frequency monitoring.
The display of the L220 can be set to display either hertz or true RMS line voltage. The display can also be set to alternate between hertz and volts approximately every 7 seconds. The L220 is packaged in a rugged 4" x 5.5" x 1.5" steel and aluminum housing. When not in use, the power cord stores inside the case for added convenience.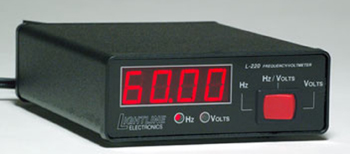 A must for gaffers and lighting rental houses
Monitors frequency or volts
Input 75 to 265VAC, 50/60 Hz

Download this information in Acrobat PDF format: