CineSpeedMeter2 Optical Frequency Meter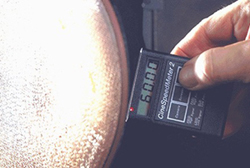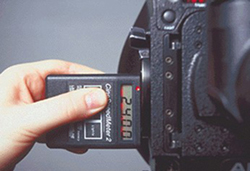 Reading screen scan rates
Monitoring generator frequency
Checking for light flicker
Checking camera frame rates

The CineSpeedMeter2 uses a very tight tolerance, quartz crystal controlled microprocessor to ensure accurate, intelligent measurements. It incorporates the newest in surface mount technology to guarantee reliability. By using the intelligence of a microprocessor, the CineSpeedMeter2 is able to let you know when the conditions are correct to give an accurate, repeatable reading.
The CineSpeedMeter2 can read screen scan rates to .001Hz accuracy. Simply place the CineSpeedMeter2 directly against the screen, press and hold the "Screens" button. Once the scan rate is determined, the user can then apply that value to any camera speed control unit, thereby locking the video roll bar in place during filming.
The CineSpeedMeter2 monitors generator frequency by reading the output of most any type of A.C. light source. Just point the CineSpeeMeter2 directly at the source or at the reflected light from a bounce. Press and hold the "Lights" button. It will then display the measured frequency to .01Hz accuracy.
The CineSpeedMeter2 can check for a flickering light source, indicating a bad bulb or possible generator or ballast problems. Read the light source as indicated above. A flickering light will give an inconsistent, unsteady display.
The CineSpeedMeter2 can also check camera frame rates, thereby giving you a visual indication of the steadiness and accuracy of the camera motor. To perform a camera speed test, first remove the lens. Shine a suitable light into the eyepiece. Align the CineSpeedMeter2 with the center of the camera port. Once aligned, press and hold the "Camera" button. The camera frame rate will be displayed to .01FPS accuracy.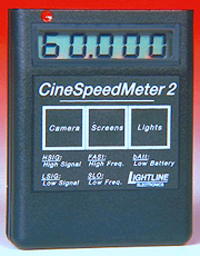 Reads screen scan rates to .001Hz accuracy
Monitors generator frequency
Checks for light flicker
Checks camera frame rates
Download this information in Acrobat PDF format: